Rene Weis joins BritGrad 2012 line-up.
We here at BritGrad headquarters are pleased to announce to you one final plenary speaker: René Weis!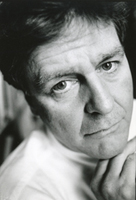 Weis is Professor of English at University College London. He has studied at the University of Edinburgh, the Università per stranieri di Perugia, and at UCL. In addition to professorial duties, Weis is the UCL Trustee of the Shakespeare Birthplace Trust, and he chairs UCL's Lunchtime Lecture Series. His research interests cover many areas of Shakespearean and Early Modern study and extend elsewhere – he is currently researching the genesis of Verdi's opera La Traviata during a 36-month leave funded by a Major Research Fellowship from the Leverhulme Trust. Publications include Shakespeare Unbound, Shakespeare Revealed, and King Lear: A Parallel Text Edition. He has edited plays by Shakespeare and Webster, and joins us in the wake of his newest publication, the Arden 3 Romeo and Juliet. 
(We can't guarantee anything, but we'd guess that Professor Weis would be happy to sign your copy of R&J if you ask nicely.)