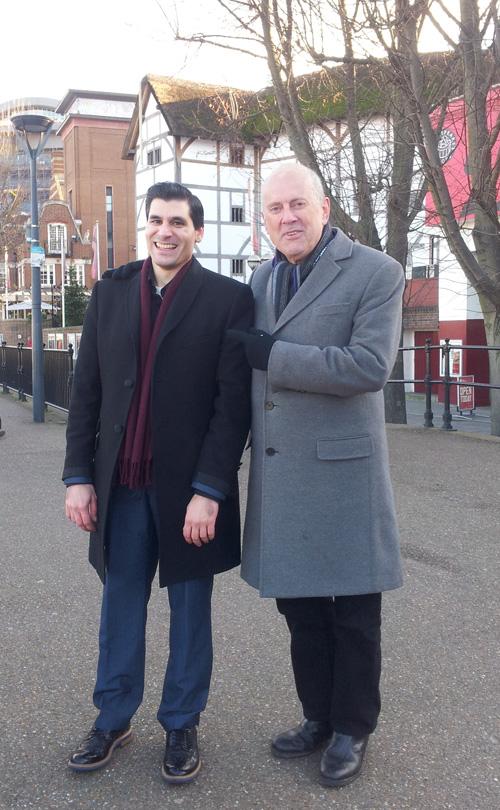 The second day of BritGrad again offered several fascinating plenary talks. Dr Chris Laoutaris with The Shakespeare Institute spoke on "Early Modern Robotics in Shakespeare and Spenser". He discussed posthumanism or "cyborg theory" and wondered how familiar Renaissance audiences were with robots, noting that we now live at a time when the existence of humanlike robots is very possible. Numerous religious sermons at the time referenced automata when discussing false idols and hypocrites (those who go through the motions but are inwardly barren). Laoutaris showed a few clips of early modern robots which were both incredibly advanced and eerie. Renaissance England was a place of wonder and skepticism about the wonderful.
Another former BritGrad chair, Dr Andy Kesson from the University of Roehampton, talked about the importance of studying playhouses directly before Shakespeare, a time when early modern theatre culture was forming. He lauded archival work by Martin Wiggins and Tiffany Stern which reimagined theatrical history and said that scholarship should "inconvenience perceived narratives". Kesson discussed several quotes about early modern theatre, including the famous statement in Robert Greene's 'Groats-worth of Wit' (1592). The reference to Shakespeare and his "tiger's heart wrapped in a player's hide" quotes 3 Henry VI and was most likely written by Henry Chettle. Kesson argued that the quote suggests that early Shakespeare was associated with violent plays. From the bloody histories (Richard III, Edward III, and the Henry VI trilogy), to Titus Andronicus, Shakespeare featured a surprising number of war narratives. Even his comedies (The Comedy of Errors, The Taming of the Shrew, and The Two Gentlemen of Verona) were quite violent and sometimes misogynistic.
Dr Farah Karim-Cooper, Head of Higher Education and Research at Shakespeare's Globe, gave the final plenary talk of the day, "The Hand on the Shakespearean Stage". She discussed her research and observations about theatrical gestures in the Renaissance. A wide variety of influences shaped gestures, including acting skill, costumes, and lighting conditions. How did large, outdoor spaces affect hand movements in comparison to intimate, candle-lit theatres? We assume outdoor performances at the Globe were grand and over-the-top, but Karim-Cooper noted that stillness on an outdoor stage can be both powerful and highly visible. She also gave insight into different kinds of "gestural annotations," including iconic and instinctive movements, depending on what the passion, play, or performer needed to convey.
Day 2 of BritGrad 2015 was another success. Thanks again to the plenaries who shared their repositories of knowledge with us!